Best Chocolate Chips Pancake Recipe
I love chocolate. It is my solution to every problem and the one thing which has never let me down. And I also happen to be a massive fan of Pancake Recipe. It is my Sunday breakfast. I spend the entire week looking forward to my favorite chocolate chip cupcakes. I believe in having a moderate amount of my favorite items to keep the love alive so Sunday is my designated day of the week for chocolate chip pancakes.
I keep trying new recipes of these pancakes because although I liked each and every one of them, some were not fluffy enough, some had a slightly too moist taste, and some were not just chocolaty enough. However, recently I came across this recipe which guaranteed the fluffiest pancakes every. And I love fluffy pancakes.
So, naturally, I put it to the test. I approved immediately. I used one of the chocolate chip pancake recipe I had found earlier and made some of my own tweaks with the ingredients and perfected the best chocolate chip pancakes recipe ever. They were fluffy and light and had so much chocolate that I can still feel myself smiling.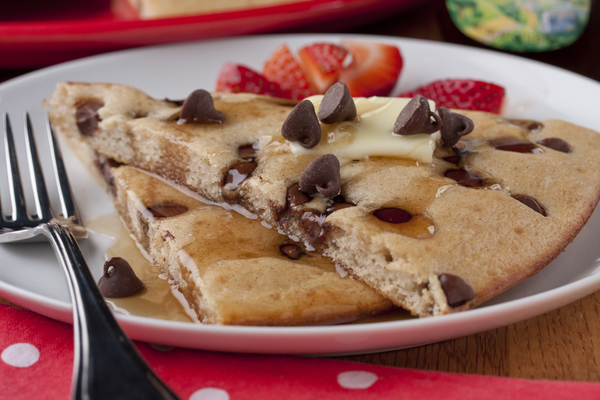 Although, I'm sharing this recipe, and for me this is the best chocolate chip pancakes recipe ever, I am sure there are those out there who will keep making changes and making it more perfect than it already is.
Ingredients:
3 cups flour
6 Tablespoons sugar
¼ tsp. salt
2 Tablespoons baking powder
3 eggs
⅓ cup canola oil
1+ cup milk
chocolate chips
Method
Take a small medium sized bowl; and put in the flour, the sugar, the salt, the baking powder and the chocolate chips. Mix these dry ingredients together thoroughly and put the bowl to one side.
Take out another medium sized bowl and put the eggs, the canola oil and the milk in it. Mix it well.
Now add the dry mixture to the mixed eggs, canola oil and milk. And mix it. In case the consistency is not right, add in more milk.
Take out a nonstick skillet and put it over medium heat. Pour a small amount of the batter into the pan. When you see the bubbles rising, and that the side is well done. Flip it over and cook the other side.
For garnish, put chocolate syrup and sprinkle chocolate chips onto the chocolate chip pancakes.