Apple Sauce Pancake Recipe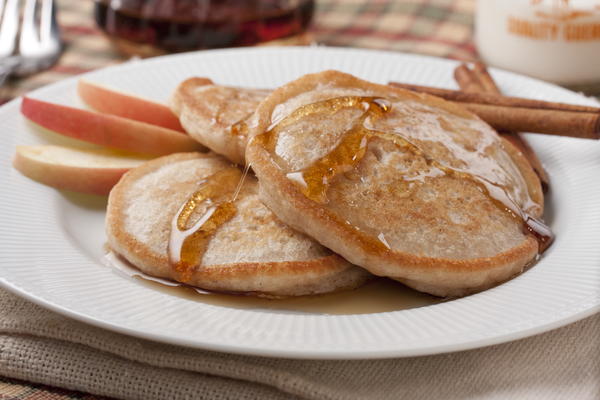 I hate knowing that whenever I eat bite of pancakes, I'm going to put up all the fats and calories somewhere on my body. The very thought is like a physical blow to me. So lately, I decided to make some changes to my diet.
There are lots of pancakes types and recipes out there. Why not go for healthy pancakes? I guess it's a better option! I mean, it is not necessary that my breakfast has to be three quarters maple syrup, right? If I still wanted to eat this, then I had to learn how to adjust to certain changes.
I tried different new recipes and luckily for me, most of these new recipes tasted absolutely fantastic. My top favorite was the apple sauce pancakes, the healthy pancakes, which had such low calorie content and a very low level of fat that simply eating these yummy pancakes made me smile. I was not going to regret this at all. It is not that difficult to make as well, so I decided to share the recipe.
Ingredients:
1 cup all-purpose flour
1 teaspoon baking soda
1/8 teaspoon salt
2 tablespoons toasted wheat germ
1 cup nonfat buttermilk
1/4 cup unsweetened applesauce
2 teaspoons vegetable oil
1 large egg, lightly beaten
Cooking spray
Sugar-free maple syrup (optional)
Fresh fruit slices (optional)
Method
Take a medium bowl and combine the flour, the baking soda, the salt and the toasted wheat germ in it.
Now, with a spoon, make a well in the center of the mixture.
Then in this well, add the buttermilk, the unsweetened applesauce, 2 tablespoons of vegetable oil and the beaten egg and stir until all the ingredients have been mixed properly.
Next take a nonstick pan, a skillet to be exact, and coat it with cooking spray and put it over medium heat.
Pour 1/4 cup of batter onto the hot pan and spread it around. Cook till the top is covered with bubbles and the side looks done.
Flip it over and cook the other side.
Then serve it with sugar free maple syrup and fresh fruit.
This is a particularly good recipe for those who avoid sugar content, especially diabetics and the taste of these pancakes is simply heavenly.